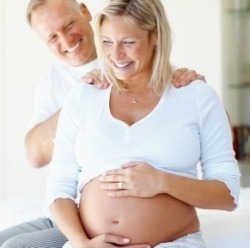 Cost - $139.00 Per Couple
Instructors Available:
Sandra Spencer
Nicole Jackson, Jim Starn
Maximum Attendees - 1 Couple
Includes a beer for Dad!
LABOR & DELIVERY MASSAGE TECHNIQUES
FOR DAD - 1.5 Hours
(IT'S REALLY FOR MOM, BUT WE WON'T TELL)

You want to comfort your wife during labor, but do you know how to safely rub away some of those aches and pains? Now Dads get the opportunity to learn a bunch of skills to safely rub away the aches and pains safely during pregnancy, giving both him and Mom comfort and focus, and making getting through labor much easier on both. Time and time again we hear just how helpful this class has been. Learn the do's and don'ts, and gain a new kind of connection as a couple, and prepare for your trip to the delivery room in an innovative way!
Couples must be at least 14 weeks along, but 26 or more weeks recommended for the best learning experience. Please no high risk pregnancies. We recommend that IVF couples get permission from their physician prior to taking this class. This class may be scheduled only as a private class, or for groups of up to three couples, by calling our office or emailing our service coordinator, Bobby Bliss, at bobby@ecwellnessdc.com.

An Excellent Baby Shower or Holiday Gift!

Third Party vouchers, discounts, and coupons are not accepted for this learning experience.




RESERVE NOW!

Private Couples Experiences are found under the "Custom Learning Experiences" tab,
and can be found in the Gift Certificate section as well to be given as a gift!